UCI Masters Track Cycling World Championships 2016 Report
Published 1 Nov 2016
Having achieved one of my major goals for the season with a win in the individual pursuit at the Masters National Track Championships I was going into the Worlds without feeling too much pressure. I was in good form and determined to just enjoy the experience having found it quite overwhelming the previous year. Then two weeks out I contracted a nasty gastric bug that had me off work and unable to train for several days. It took over a week before I felt anywhere near normal and so I arrived in Manchester with no idea how my legs would go.
The individual pursuit, my key event, was up first on the Sunday. With it being my second time at the Manchester velodrome I was at least more familiar with the setup which helped to soothe the nerves. I was seeded in heat 10 of 12 against Jonathan Harris who I'd just beaten at Nationals. My warm-up did not feel good, and as I watched other guys coming back to the track centre after their efforts looking like they had gone deep, I started to have real doubts about whether I even had it in me to start. I couldn't hit anywhere near the normal numbers for my warm up. Not for the first time the negative voices in my head nearly won, and I was very close to withdrawing, but I hate quitting so I decided I needed to at least see what happened.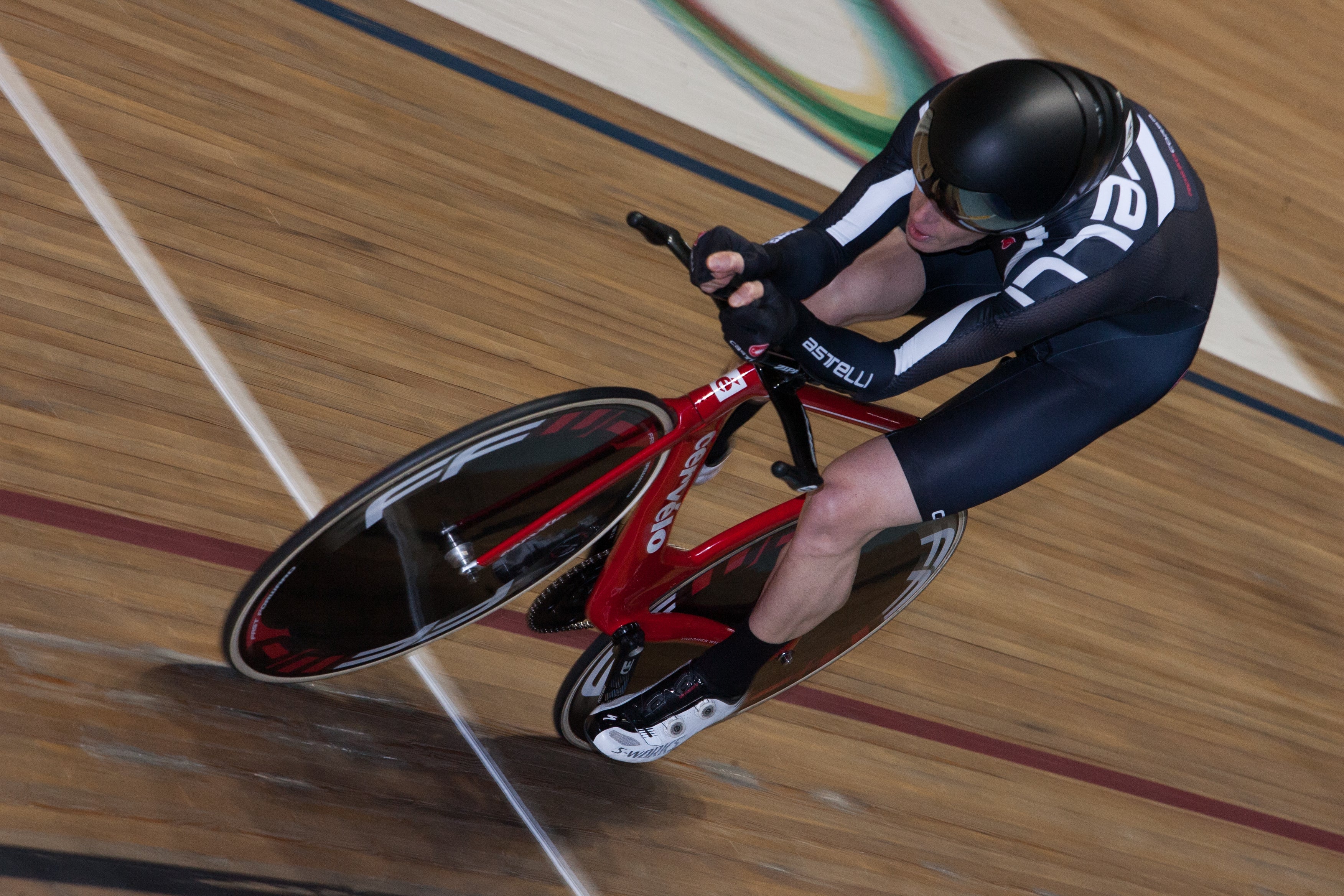 I was pretty calm waiting to get into the gate and once settled on my bike I focussed on my breathing to keep calm. Off the start I felt sluggish but the opening lap was a strong one for me, a 22.6. I missed the lap split from Mel on the second lap and by the third lap I was convinced it would be a slow one but when I got to Mel she called "6.5" indicating 16.5 seconds which was ahead of the 3:30 schedule I'd hoped to ride before my illness. I'm always motivated by the possibility of a PB so I worked hard to keep on that pace with 16.6 and 16.7 laps before the pace started to catch up with me. A slow 17.8 lap followed and I had to push on hard to pick up the pace but I was really starting to hurt by then and it was all I could do to keep my splits in the low 17s. I crossed the line to notch up 3:30.737, a PB by over a second and the fastest time to that point. It was so unexpected that I had a hard time in believing what had just happened. I waited with a sense of disbelief during the next heat as neither rider went faster than me. Now I was just waiting for the final heat, knowing that this involved the reigning World Champion Dean Phillips. I knew he would go faster than me but I didn't know what to expect from the other rider. As expected Dean did a storming ride of 3:25.730 but as the final results were displayed on the board I was up there in second place and so in the gold medal final. I felt like an imposter, or just amazingly lucky, I'd fluked my way into a final and was guaranteed a silver medal no matter what.
It was the first time I'd got into a final and raced two pursuits in one day so I didn't know how my body would respond. I was certainly feeling a lot more positive going into the ride as I'd already exceeded my expectations by some margin. I had another reasonable start with a 22.9 opening lap, following that up with solid 16.6 and 16.7 laps before settling on low 17s. I didn't realise it at the time but I was up on Dean until halfway. I faded a bit, drifting out to 17.6 whereas Dean was probably doing what he needed to keep it safe. He did 3.28.108 against my 3.32.704. I was pleased to only lose 2 seconds on my earlier ride, I had no realistic expectation at that point of being able to go faster than Dean so it wasn't like I had anything to beat myself up about. It was fantastic to be on the podium as an individual, the absolute highlight of my cycling career to that point.
It was a late drive home after the individual pursuit and back to work for a couple of days before heading back up to Manchester for the team pursuit on the Thursday. In 2015 we had got into the gold final with a qualifying time of 3:25.373 and lost to Argentina who did a 3.21.563 against our improved 3:23.707. We had gone into the event in 2015 with no expectations, but having come away with silver we set our sights on going one place better and so we decided to aim for 3.20. That meant clocking an average lap time of 16.2 which is really shifting.
We had added a fifth rider to our team from 2015, my AeroCoach teammate Nick English. This was to ensure we had strength in depth in case anyone had an issue. In 2015 Andy had real difficulty with his breathing after our qualifying round and there was a point where we didn't know if we would be able to ride for the gold medal because of it. Whilst this was a sensible precaution it did create an awkward choice about who would ride in each round. Andy had opted not to ride the individual pursuit and so we had no guide as to his fitness. He wasn't feeling very confident so he broke the deadlock and sportingly said he was happy to sit out the qualifying. We opted to have Jez as man one because of he had the power from the TT to get us up to speed quickly. Jason was slotted in as man 2, with me as man 3 and Nick as man 4 as both of us are slow starters.
We had the advantage of riding in the last of five heats so we would know what was required. Heat 3 was the Secret Training team which included three very strong riders from the 35-39 age group so we knew they would be fast. They had their weakest rider, Nik Cook, ride a three lap effort before swinging off and then they absolutely nailed their ride posting an amazing 3.15.382. I knew we had no chance of getting close to a time like that so it was depressing to see the gold moved out of reach. We watched as the US team rode a 3.21.974 which meant we were still in with a chance of making the final.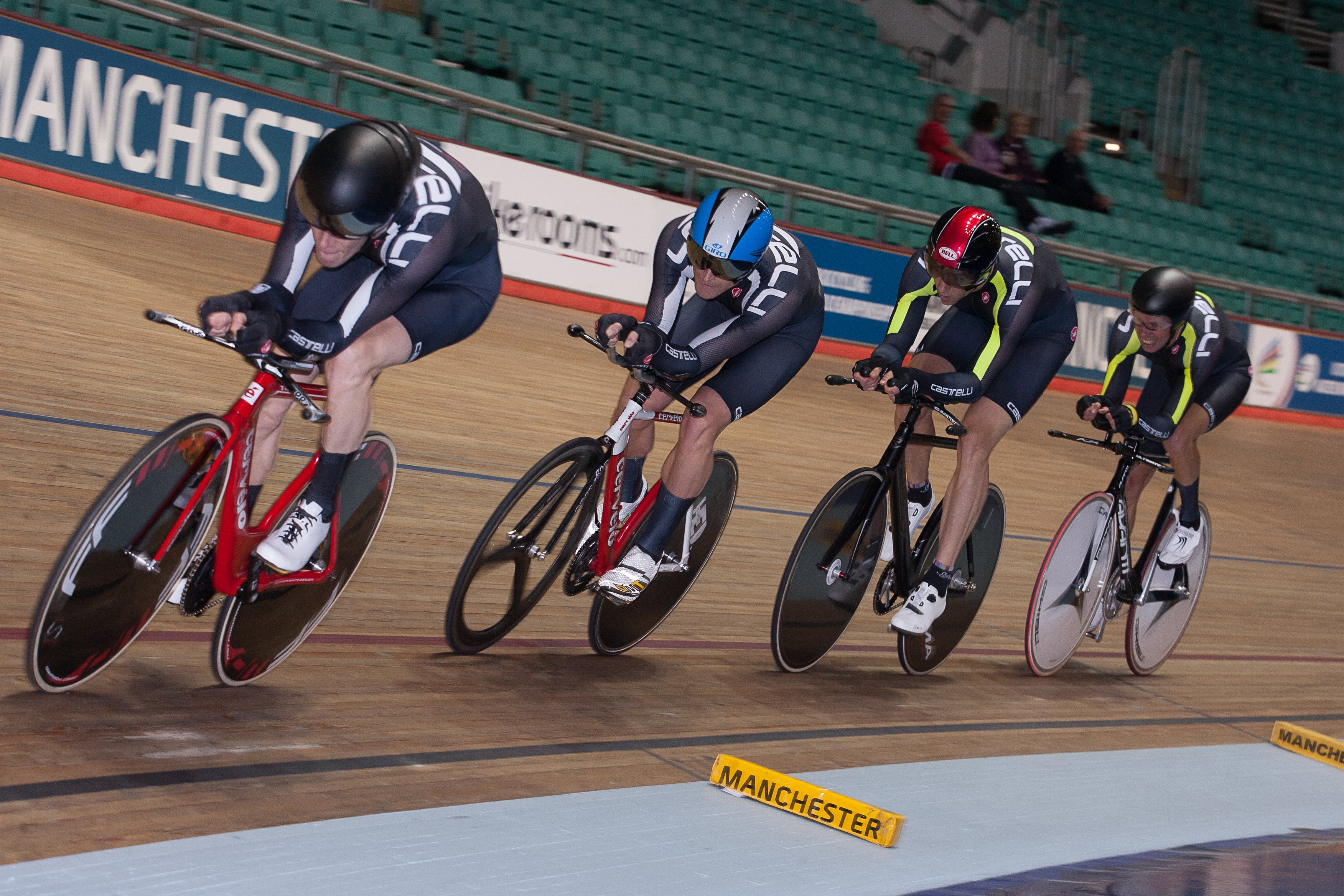 As we were called for our heat Nick went to get his bike checked for UCI compliance. It had been checked earlier in the week for the individual event and so should have been straightforward. Unfortunately it was tested on the second jig and the commissaire found the extensions to be too long. The bars had not been moved for so long that they were rusted solid and so the only way to deal with the issue was to grab a hacksaw from a mechanic and get busy sawing. Frustrated glances were exchanged between the rest of his - it was far from ideal preparation but there was nothing we could do. Finally, after a fine in Swiss Francs for the late start, we took our places. Jez got us away well with a short 22 second lap, changing with Jason after 1.5 laps for a 1 lap turn before Nick and I did 2 lap turns, all around 16 seconds, so bang on schedule. On his next lap Jason was starting to feel the pace and we dropped to a 17 and he did the right thing and pulled off leaving us with three riders. It is always really tough to reaccelerate in a pursuit so I had a difficult job as I was back on the front. I managed a 16.6 in my first lap and a 16.4 in my second. I was so in the red that I forgot to change and ended up doing 2.5 laps. Nick took us home with a 16.5 leaving us with 3.22.275, which meant we missed the gold final by a second. I felt like I was to blame as I'd stayed on the front too long, I should have done one hard lap to get us back on pace and then let Nick hold that to the finish. Easy to see that in hindsight but in the moment there isn't the time to think. It was still a disappointing situation knowing that we couldn't even equal our achievement from the previous year.
We had another round of awkward team lineup discussions before it was settled that we would keep the same four for the finals. We were six seconds faster than the French team so we had no need to shake things up to go faster. The French did their best to come out fighting but the effort caused them to crack and in the end we were easy winners with 3.23.089 for us against their 3.28.460. It was good to get back on the podium but it was bittersweet given the silver of the year before.
In 2015 I'd stuck to the IP and TP and not done any of the bunch races. So the scratch race qualifying heat was my first experience of bunch racing at this level and so I was quite nervous about it. I was in the second heat and in the first heat we saw a rider jump away from the bunch early in the race with no reaction from the bunch so he easily took a lap to secure his place in the final. As a pursuiter with very little sprint capability, taking laps is always the way I like to ride and so I resolved to try and book my place in the final the same way. So early in our heat I got off the front and went for a lap. Unfortunately several guys were determined that I should not get the lap and I was hung out to dry half a lap ahead of the bunch. I should have known better and called off the effort when I saw they were chasing but I was stubborn and kept working at it only to finally give up with maybe 15 laps to go. I stupidly went again around 10 laps to go hoping to catch them napping but that didn't work either and I burned my last few matches. As we went into the sprint on the final lap I was cooked and had to watch most of the field stream past. I'd failed to qualify despite being one of the strongest riders. This was a valuable lesson about how to ride in bunch races, although I didn't feel like it at the time. I had to sit in the stands to watch the final - a race that was hard from the start which would really have suited me.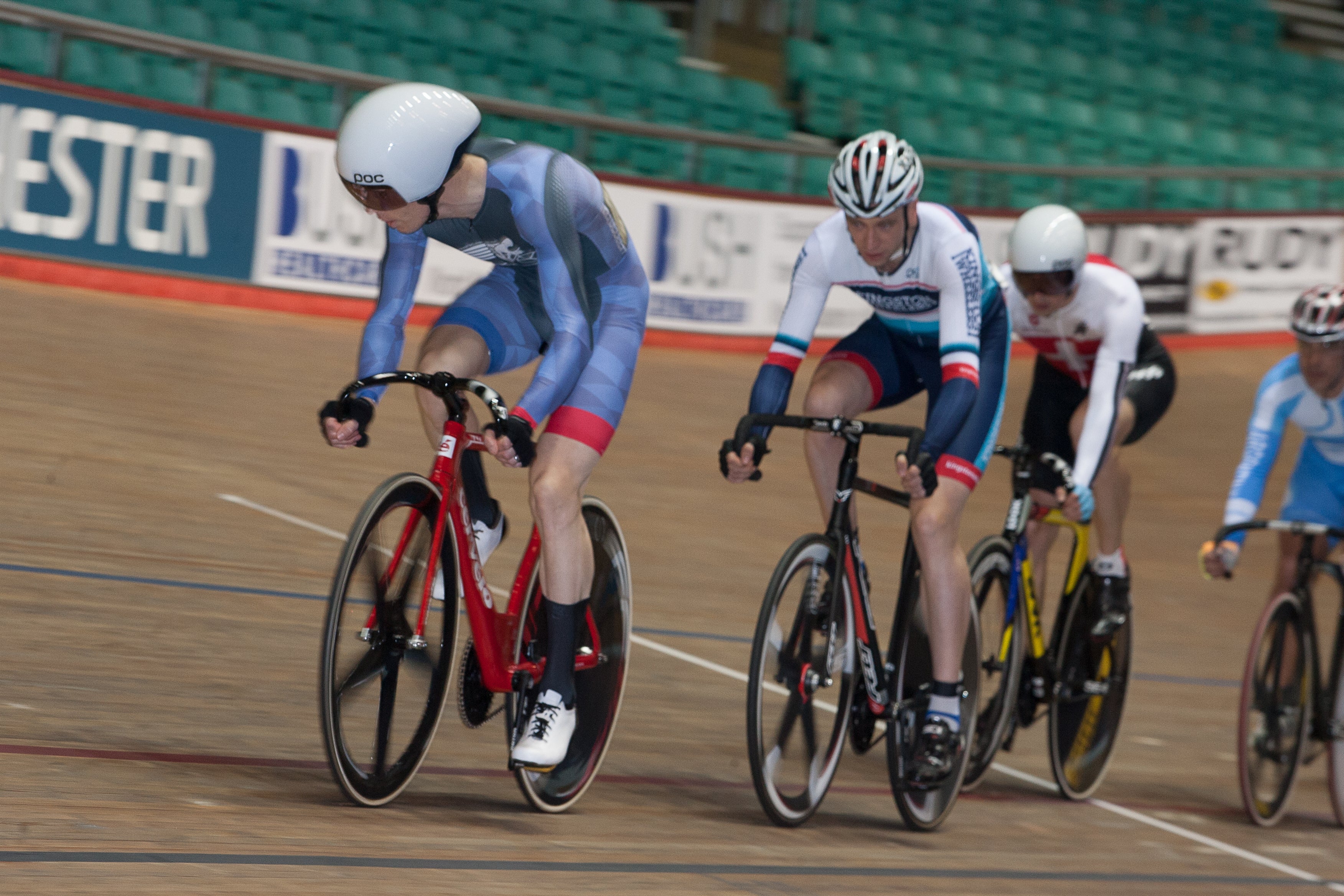 My final race of the championships was the points race. I was determined to actually compete in the final so in my heat I probably expended more energy than was sensible by taking a lap with another rider but it made certain of the qualification. The final was hard from the start. A couple of breaks went away and I was able to get into them but that put me right on my limit. I was in a group for the first sprint but came fifth so scored no points. I missed the second sprint because I was not positioned well in the bunch but I was in the move for the third sprint, but again was too on the limit to sprint and missed points. I was following an Argentinians wheel through the line on that sprint and he swang up the track to the blue line out of turn two, which I followed, but he then made another sudden move up to the top of the track which I was not expecting and his rear wheel clipped my front. The incident was partly my fault as I was overlapping his wheel but British riders would normally look before moving like that. Anyhow, I had a moment to think to myself "I am going down" before I hit the deck hard at over 30mph, spinning over on my back as my team pursuit teammate Andy narrowly avoided me, just clipping my head with his pedal. I slid from turn two all the way to the middle of the straight landing in a heap on the infield. I heard a voice saying "don't move" but I was boiling with anger and got straight up. I had so much adrenaline running through my veins that I don't really recall any pain at that point. I was relieved that nothing seemed to be broken. Looking back I wish I had got back on my bike and rejoined the race but at the time I was too shaken and called it a day.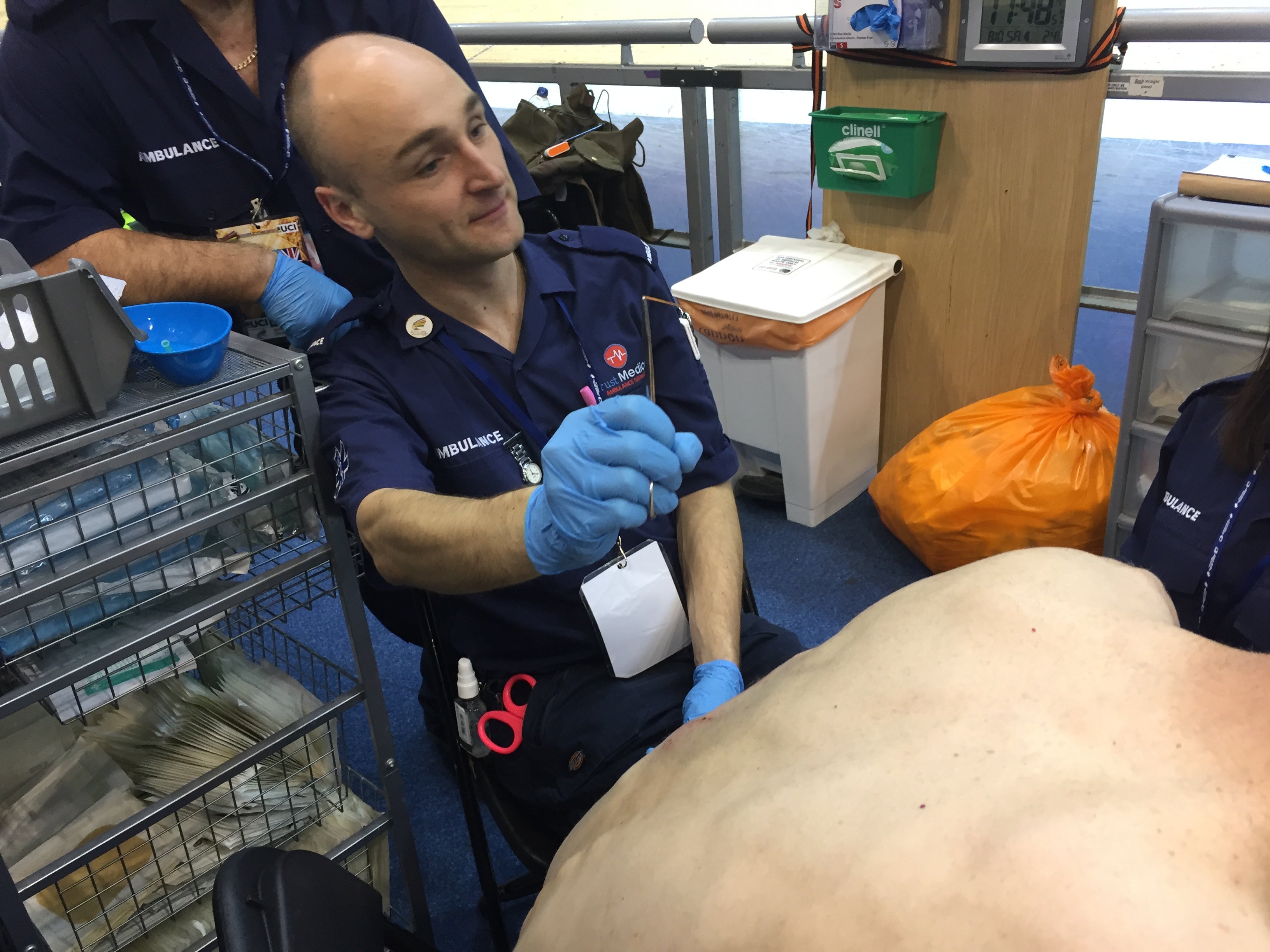 I looked my bike over and apart from a broken Garmin mount and a damaged tyre everything else was only cosmetic. Sadly my skinsuit was totally shredded. I took my bike back to our pen and went to the medical area to get checked over. I was expecting a five minute visit but in the end I was there for two hours with Dan the medic carefully removing splinters from my back. He did a fantastic job and removed some pretty big chunks of track but despite my urging him to dig deeper some of them were simply too deep in my back for him to reach. Many of the other racers came by the medical area to check on me after the race which was very nice of them. By the time Dan called it a day the final race of the championships was done and I was starting to feel pretty sore and stiff around my hips. My wife and friends packed all of our stuff into the car which was also very generous. I was certainly in no fit state to dot it. It was back to the hotel to contemplate my wounds over a cold beer.
We spent most of the next day between minor injuries and A&E without much of a resolution. In the end I had to have minor surgery a week later so that the remaining splinters could be dug out of my back. I also hard severe friction burns that the doctors thought might need skin grafts but luckily my skin was able to heal naturally. All in all not a great way to end what had been my most successful competition!