Bont Vaypor Plus Review
Published 10 Feb 2015
I tried Bont shoes because of their industry leading low shoe stack height of just 3.6mm. Most pedal manufacturers will tell you the stack height for their systems, but for some reason very few shoe manufacturers do so. This is strange as your overall stack height is determined by the combination of both pedal and shoe. The only way to find out for a given shoe is to drill a hole in it, so obviously not something you can do in your local bike shop!
This low stack height is achieved using a full carbon fibre tub which literally surrounds the complete length of your foot. This tub features a built-in arch support to provide a solid platform and prevent pronation, which can lead to poor knee tracking. Based on this design you can understand why heat moulding is needed to make these shoes work for people. With the foot encased in unyielding carbon it had better fit or the rider will experience discomfort.
Closure System
The Vaypor+ was originally released with Atop reels but at some point they switched to the more prevalent Boa system, which came fitted to my pair. They use the version that you twist to tighten and pull up to release. Boa also do a version (just licensed to Specialized?) which micro-adjusts by tightening in one direction and loosening in the other which are much better and allow you to fine tune fit on the go. When you pop these dials they release all the tension and you need to turn quite a bit to tighten again.
Sizing
The Vaypor Plus comes in standard, wide and narrow widths. As with any shoe, the best way to establish size would be to try them on, but here in the UK there are very few retailers that stock them, and often not in all widths. Bont provide a sizing wizard to help you determine the correct size. Annoyingly there seem to be various versions of this wizard on the Bont website and I got several different results including 45 standard, 46 standard and custom only. I was surprised that it recommended the standard width as I have quite narrow and low volume feet so in the end I tried 45 standard, 46 standard and 46 narrow. The 45 was too short and my big toe pushed against the end. I'm normally a 44.5 or 45 in cycling shoes so this does show that their sizes run smaller than the rest of the industry. I could not really tell a difference between the 46 standard and narrow prior to heat moulding other than a little less height in the toe box on the narrow and so opted to buy the 46 standard.
Build Quality
I was quite disappointed with the build quality of these shoes. For £220 they are in the top bracket of road cycling shoes so I expect them to be immaculate. Mine came with a number of clear quality issues.
The upper material around the toe box on both shoes is creased and when tightened this gets worse. Not the end of the world but it does press on my toes and look poor.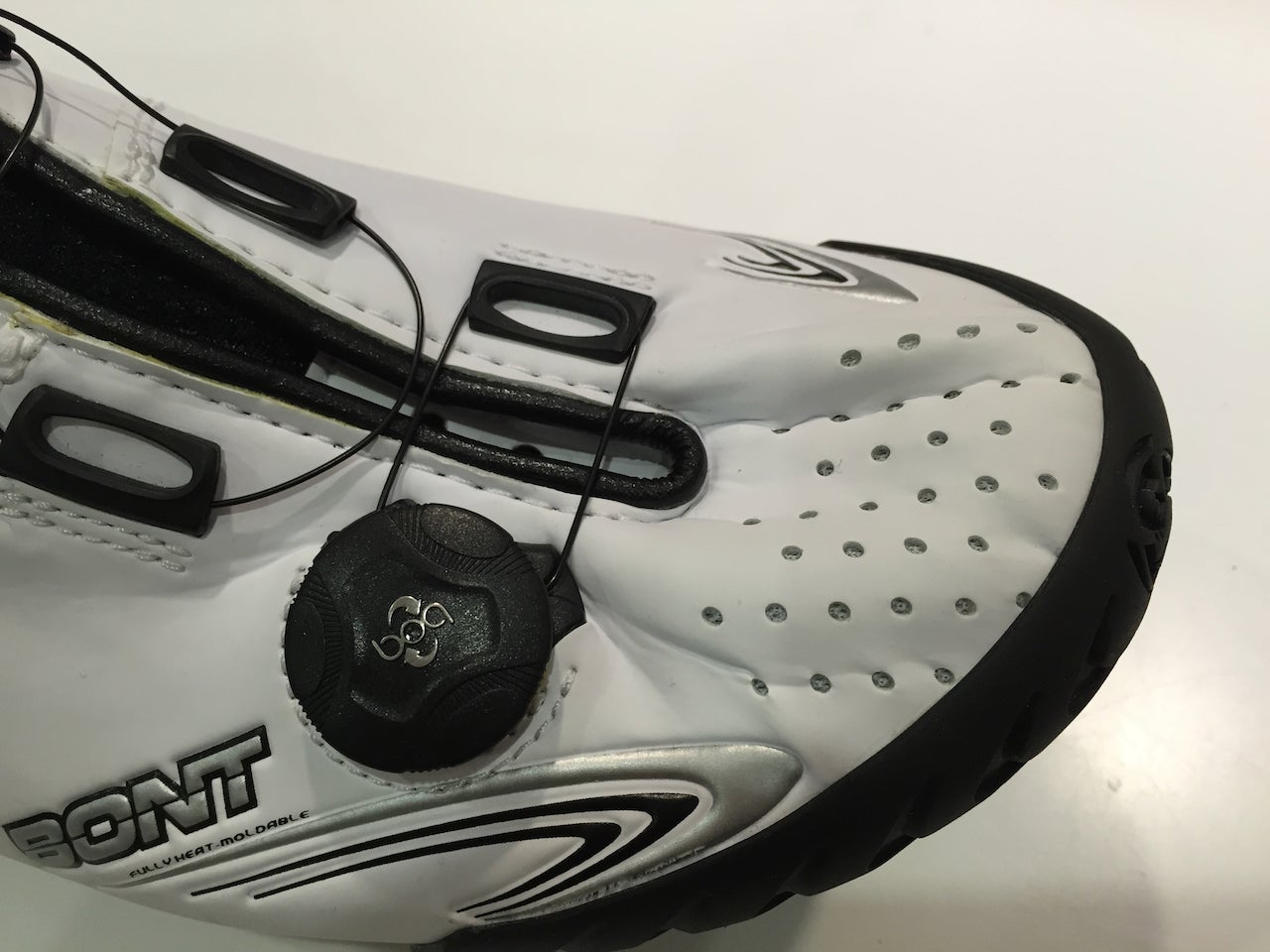 The boa dials on one shoe are in a completely different position to those on the other, it looks like they are at least 5mm out which causes the Boa cables to pull at an angle. Again not the end of the world but still disappointing and unsightly.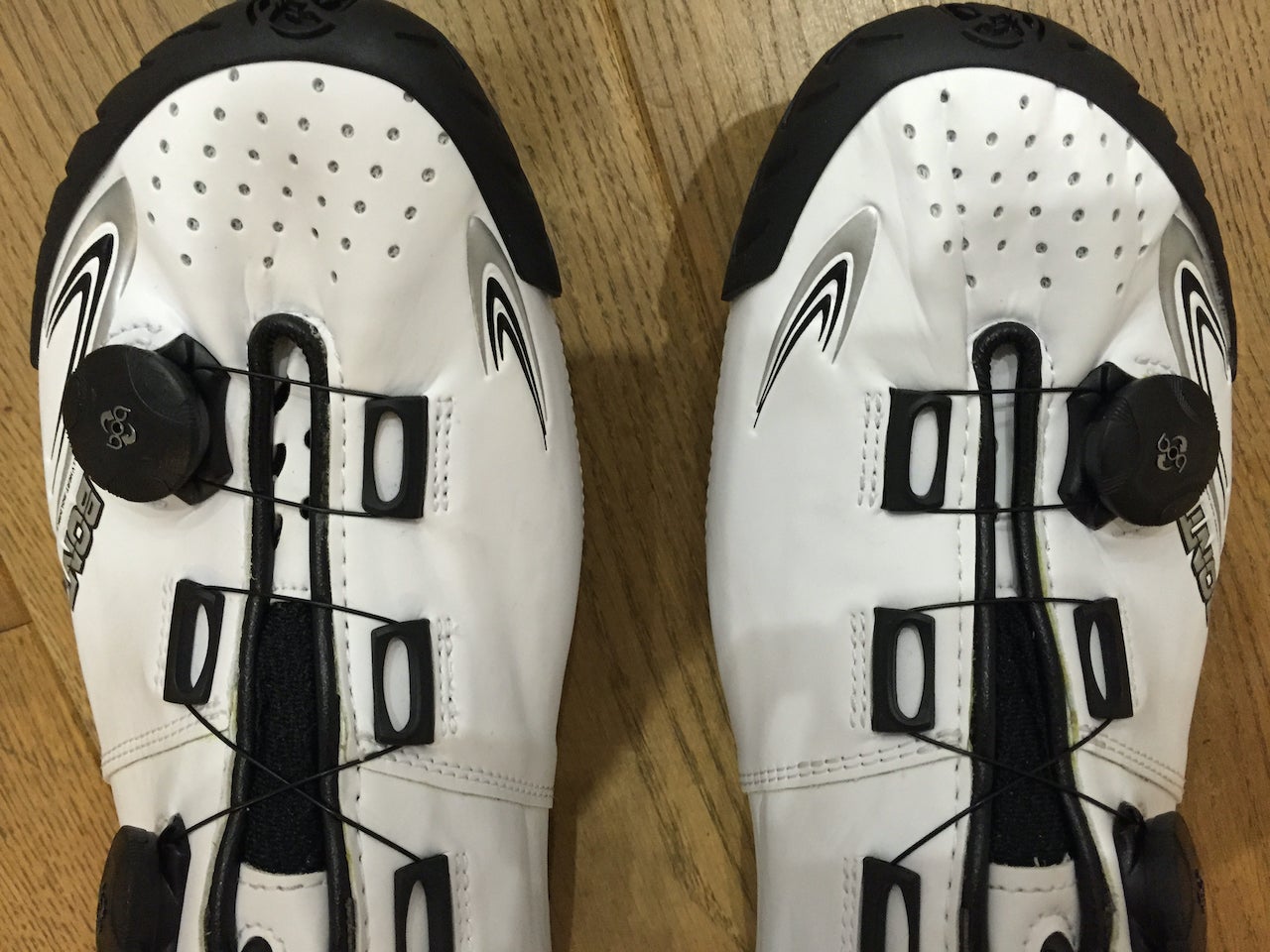 There are a few other niggles including smudged printed graphics on the carbon sole, cracks in the carbon around the cleat nuts and the rubber bumpers pulling away from the sole
Heat Moulding
This is where the faffing really starts. One of the main selling points of Bont shoes is the amount of moulding you can achieve along the whole length of the shoe to optimise the fit. I followed the instructions for my first moulding effort: 20 minutes at 70 degrees Celsius, checked using a digital thermometer, and then put them on and stood still with knees bent to keep my weight forward. This had absolutely no effect. The major fit issue I wanted to address was a loose heel cup, so having been cautious with the first effort I then tried again and this time applied some pressure to the heel cup. Even leaving the shoes in the oven for 25 minutes left them extremely stiff and I had to apply a huge amount of force to get any change. A third effort in the oven just had the effect of making them relax again loosing the previous reshaping, so back to square one. Asking around, I'm not the only person to have experienced such issues, and some resort to heat guns to make minor adjustments to specific areas.
Ultimately I have to conclude that the heat moulding of Bonts is overplayed. In the end the heel slip means they just were not a good fit for me, and I can only assume that those people out there who have moulded them successfully must have had a tight fit that they have relaxed rather than the reverse. This is a real shame because the stiffness and low stack height are great, and the way your arch is supported and your forefoot is laterally contained within the carbon tub are biomechanically perfect.